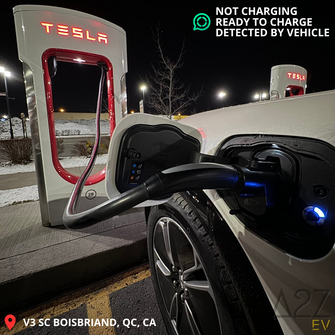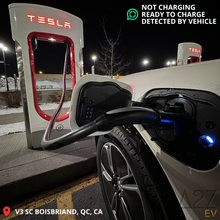 NACS (Tesla) to CCS1 Adapter - DC - 250kW - CE & FCC CERTIFIED - A2Z Typhoon Plug - Charge any CCS1 EV with a Tesla Supercharger
Important informations : This product's page is only for presentation purposes. The product is ready and we have started production with available units in stock in Montreal, Canada. Since Tesla hasn't yet opened their supercharger network to all EV's, the adapter won't work. Once Tesla opens their charging network to...
Guarantee safe & secure checkout
Important informations :
This product's page is only for presentation purposes. The product is ready and we have started production with available units in stock in Montreal, Canada.
Since Tesla hasn't yet opened their supercharger network to all EV's, the adapter won't work. Once Tesla opens their charging network to all EV's and authorizes aftermarket adapters, the Typhoon Plug will work. We are aware that our adapter is currently useless, we are simply prepared in advance.
The AC function will be removed on the final version, this adapter will only support DC for safety concerns as all pins are energized during DC charging. Having 500V going through AC pins while DC charging is a threat to the AC circuit.
We are in discussion with various car manufacturers and companies to offer this adapter to their customers. Yes, even car manufacturers.
The product and first demo units were finalized on december 9th 2022.
Car manufacturers & companies are welcome to contact us for manufacturing prices : +1-514-229-1409 or b2b@a2zcanadainc.com
The Typhoon Plug has been tested and is ready for car manufacturers and charging station companies making the move towards the North American Charging Standard (NACS).
Proof video : below.
How it works :
Basics : The NACS-CCS1 Typhoon Plug is 100% passive and has no electronics. L1 and L2 pins are crossed between the NACS and CCS1 end. NACS' ground goes directly to J1772's ground. NACS' Control Contact pin goes to J1772's Control Contact pin and the same applies to the Control Proximity pins. The adapter is quite straightforward and makes a simple conversion of plugs. This adapter is simply the opposite of the CCS1 to NACS adapter. The charging station and vehicle are in charge of everything else regarding the charging process. 
Temperature sensor : The temperature sensor needs no power. It's a sensor switch connected to PP and PE, when it senses a temperature over 90ºC it switches off and by the same occasion stops communication between PP and PE. The charging process then stops, until it cools down.
Requirements : 
For North American Market

Any NACS (Tesla) level 3 (DC) charging station.

All EV's with a CCS1 Plug
A2Z EV is the first company to release an aftermarket NACS to CCS1 adapter for North American EV's. You can now charge your vehicle at any NACS fast charging station. 
We carefully designed our product to ensure it fits perfectly your vehicle and without any danger to any of its components. Our adapter reproduces all the features of the original adapter. 
We equipped the A2Z Typhoon Plug with a dual temp kill switch that activates itself if the Typhoon Plug ever overheats. When your adapter's temperature reaches 90 °C, the temp. breakers are triggered and stop charging your vehicle in order to protect it. When temperatures drops back to normal, your vehicle goes back to charging after replugging it. Note that in all of our testings, we never reached this temperature. Our adapter locks into your vehicle, it prevents your adapter from being stolen or unplugged, only way to remove it is by authorizing it from your car or phone.
Specifications :
Power : Charging speeds up to 250kW (Our adapter works on any fast charging stations without any issues, even the 350kW ones.)
Rated Voltage: 100~1000V.
Conductor Material : Titanium Copper Alloy (we only use the most expensive premium materials, we don't cut corners).
Contact resistance : 5 m

Ω

Shell Material : Polyoxymethylene (Insulator inflammability UL94 VO)
Operating Temperature: -40°C to 85°C.
Security : Dual Temp. kill switch. Charging stops when adapter reaches 90ºC.)
Sealing gasket: silicon rubber.
Security : locks into the vehicle while charging.
Certification: CE, TUV, RoHS, ETL (in the process)
Degree of protection : IP54 (Protection from dirt, dust, oil, and other non-corrosive material. Complete protection from contact with enclosed equipment. Protection from water, up to water projected by a nozzle against enclosure from any direction. 
Inside the box :
A2Z Typhoon NACS to CCS1.
Hard Case
Product Manual and important notices.
Product certifications :
CE certification
FCC certification
Manufacture certifications :
IATF 16949:2016 quality system
ISO14001:2015 environmental system
ISO13485 medical system certificate.
Warranty :
This product includes a 12 months warranty.
In case of 
misuse
mishandling
negligence
vehicle accidents
modifications
the warranty will be voided. 
Our warranty only covers manufacturing defects.
Consult the warranty section for more informations. 
A2Z Canada Inc. ("we" and "us") is the operator of (https://www.a2zevshop.com) ("Website"). By placing an order through this Website you will be agreeing to the terms below. These are provided to ensure both parties are aware of and agree upon this arrangement to mutually protect and set expectations on our service.
1. General
Subject to stock availability. We try to maintain accurate stock counts on our website but from time-to-time there may be a stock discrepancy and we will not be able to fulfill all your items at time of purchase. In this instance, we will fulfill the available products to you, and contact you about whether you would prefer to await restocking of the backordered item or if you would prefer for us to process a refund.
2. Shipping Costs
Shipping costs are calculated during checkout based on weight, dimensions and destination of the items in the order. Payment for shipping will be collected with the purchase.
This price will be the final price for shipping cost to the customer.
3. Returns
3.1 Return Due To Change Of Mind
Due to safety and to ensure every product we sell is new and never used, we don't accept any returns.
3.2 Warranty Returns
A2Z Canada Inc. will happily honour any valid warranty claims, provided a claim is submitted within 12 months of receipt of items.
Customers will be required to pre-pay the return shipping, however we will reimburse you upon successful warranty claim.
Upon return receipt of items for warranty claim, you can expect A2Z Canada Inc. to process your warranty claim within 7 days.
4. Delivery Terms
4.1 Transit Time Domestically
In general, domestic shipments are in transit for 2 - 7 days
4.2 Transit time Internationally
Generally, orders shipped internationally are in transit for 4 - 22 days. This varies greatly depending on the courier you have selected. We are able to offer a more specific estimate when you are choosing your courier at checkout.
4.4 Change Of Delivery Address
Orders placed before 05 PM - EDT (UTC-04) will be dispatched the same day, otherwise, within the next business day.
Our warehouse operates on Monday - Friday during standard business hours, except on national holidays at which time the warehouse will be closed. In these instances, we take steps to ensure shipment delays will be kept to a minimum.
4.4 Change Of Delivery Address
For change of delivery address requests, we are able to change the address at any time before the order has been dispatched.
4.5 P.O. Box Shipping
A2Z Canada Inc. will ship to P.O. box addresses using postal services only. We are unable to offer couriers services to these locations.
4.6 Military Address Shipping
We are able to ship to military addresses using USPS. We are unable to offer this service using courier services.
4.7 Items Out Of Stock
If an item is out of stock, we will wait for the item to be available before dispatching your order. Existing items in the order will be reserved while we await this item.
4.8 Delivery Time Exceeded
If delivery time has exceeded the forecasted time, please contact us so that we can conduct an investigation.
5. Tracking Notifications
Upon dispatch, customers will receive a tracking link from which they will be able to follow the progress of their shipment based on the latest updates made available by the shipping provider.
6. Parcels Damaged In Transit
If you find a parcel is damaged in-transit, if possible, please reject the parcel from the courier and get in touch with our customer service. If the parcel has been delivered without you being present, please contact customer service with next steps.
7. Duties & Taxes
7.1 Sales Tax
Sales tax has already been applied to the price of the goods as displayed on the website
7.2 Import Duties & Taxes
Import duties and taxes for international shipments may be liable to be paid upon arrival in destination country. This varies by country, and A2Z Canada Inc. encourage you to be aware of these potential costs before placing an order with us.
If you refuse to to pay duties and taxes upon arrival at your destination country, the goods will be returned to A2Z Canada Inc. at the customers expense, and the customer will receive a refund for the value of goods paid, minus the cost of the return shipping. The cost of the initial shipping will not be refunded.
8. Insurance
Parcels are insured for loss and damage up to the value as stated by the courier.
8.1 Process for parcel damaged in-transit
We will process a refund or replacement as soon as the courier has completed their investigation into the claim.
8.2 Process for parcel lost in-transit
We will process a refund or replacement as soon as the courier has conducted an investigation and deemed the parcel lost.
9. Customer service
For all customer service enquiries, please phone us at 1 (855) 229 - 5337.